I'm back to "partly cloudy," after almost a week in the warmth and sunshine of beautiful Scottsdale, Arizona. This gorgeous spot always gets to me… especially this time of the year when the city fills up with baseball loving, sun seeking foodies.  It feels like the best place on earth.  Yeah, we did work a little, but we ate more, watched some fun games (go Cubs!), and even fit in a few workouts, notably a climb up Camelback Mountain.
Have you seen Camelback… rising from the desert floor, looking much like it's namesake?
It's not an easy hike, even though it starts off looking harmless…
But it quickly becomes a straight up scramble, so steep that several sections have been outfitted with railings to help you pull yourself up the rocks.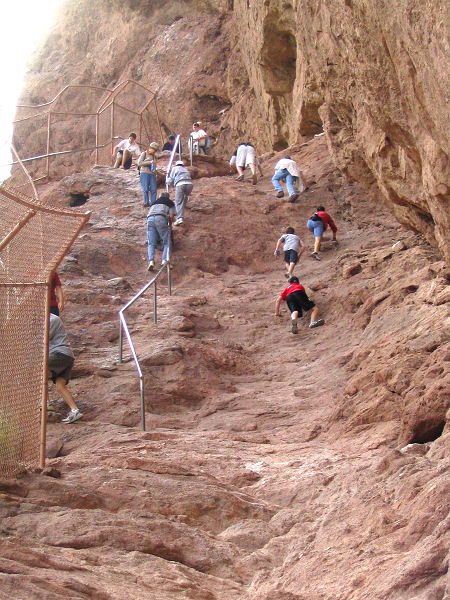 We finished in a little over 1 1/2 hours… the 360 degree view is spectacular… and were busy congratulating ourselves when 2 studly looking men ran past. One, aged 72, was heading up the mountain a 2nd time and the other, 75, was starting his 3rd trip.  Oh. Wow. OK… I'm a wimp.
Well, we still deserved a celebration of sorts… a big breakfast treat… so decided to check out the restaurant at the new Saguaro Hotel… another MUST for Scottsdale visitors.
Recently purchased by Joie de Vivre Hotels and completely remodeled, this BRIGHT spot opened in January of this year.  No muted terracottas or earth tones here! Most surfaces are painted the colors of Arizona wildflowers… hot pinks, oranges, yellows, reds, lime greens, purples… and lots more.  You can't help but feel happy and ready for a good time when you walk in!
LOVE these lights!  Did you know you can make them?  Here are directions from ruffledblog.com.
Only the bar is somewhat muted, paneled in weathered barnwood, while still sporting a few brightly painted niches.
The orange tips on the barstools really got me. Such a simple feature makes a BIG impact.
Nice display idea.

Check out the purple carpet in the rooms and hallways.
HAPPY happy colors!  Hmm…. am now rethinking the desert house.  I've always loved warm earth tones, and lots of wood, rock, metal and other materials found in nature.  But maybe these bright hot colors would be even better for a weekend place….  You can't help but smile and relax when surrounded by this.  What do you think??
Related posts: