There is something extra special about stuff that is hand made by artists, especially those that use and reuse old fabrics, textiles and furniture.  If it is stitched, embroidered, patched, quilted, or hand painted, so much the better! The final effect is new, unique and inspiringly fresh, oozing personality and soul.
I recently discovered (and fell in love with) these puffy blue pillows at  JUXTAPOSITION in Newport Coast. I first thought they were made of old blue jeans, but upon touch, could tell the fabric was much much softer and very fine. When I saw the price, I knew they must be something special indeed. (around $480 each)
They are made of "Boro"… vintage hemp and cotton fabric woven by Japanese farmers to make their everyday clothing in the early 1900′s.  Washed, worn and eventually torn, bits and pieces of  this fabric are now very rare… and valuable.  You can see more examples, read about it and even buy from this ebay dealer here…
Anthropologie does a great job of ferreting out the unique, especially considering they are a large corporation. MOST of their furniture is so distinct, especially that with hand stitched, quilted and patched together fabrics. These gorgeous pieces might not be one of a kind, but they are distinct and not something normally seen in other furniture shops.
I first saw this chair made of vintage denim bits and pieces right after seeing the Boro pillows at Juxtaposition, so they immediately caught my eye.  Such a casual, cool, and rough look for this a formal chair.  LOVE.
Beautiful fabric collages were everywhere… Anthropologie IS known for this sort of look.  How about this ottoman?
AND… sofa: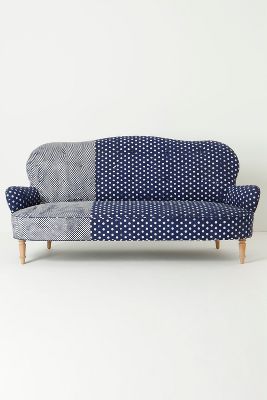 Anthropologie is currently showcasing the upholstery work of Serbian artist Draga Obradovic… unique, one-of-a-kind pieces created when she reupholsters vintage frames in coated-cotton canvas fabric that has been layered with rich pigment ,then screenprinted and hand-distressed.  The final product has a durable, leather-like finish. This is my favorite… I've always been a big fan of polka dots.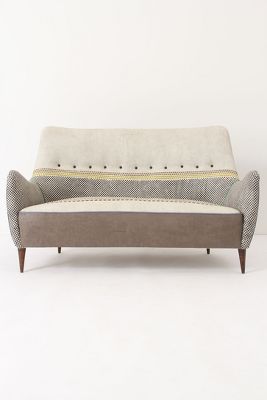 Another example of Obradovic's one of a kind, repurposed vintage pieces.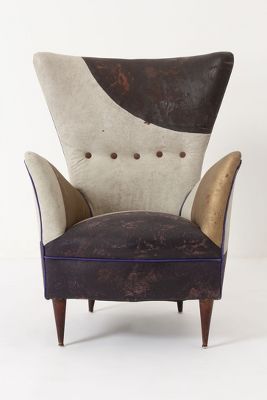 I'm drooling now… time for some more upholstery classes!  What has caught your eye recently… anything unique or handmade?  Please share!!
Related posts: