I've long been a fan of these fun, bright and practical folding chairs sold at the mecca of all things beautiful and bohemian called Anthropologie: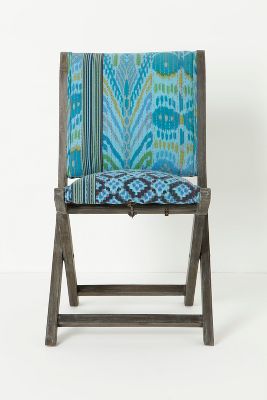 I'm sure you know all about this store… and the temptations that beckon from every corner. These chairs are FAB, but at $198 each, I wasn't about to rush to the check-out counter with a pair.  Anyway… where the heck would I put them in my already bursting at the seams Casa Anderson?
My clever friend Hoiyin… partner in all things recycled, re-imagined, repurposed and reused, also fell in love and decided she needed such clever chairs… SO perfect to pull out for guests visiting her tiny but uber-cool loftette. But, ever the DIYer, Hoiyin made her own version with two folding chairs found in a back alley rather than at Anthropologie. She started with this:
These "ugly chairs" were found leaning against a dumpster.  No one wanted them, or even deemed them worthy of a garage sale or thrift store donation.
Hoiyin polished up the wood, and then with a bit of instruction at Alchemy Fine Living in Santa Ana, reupholstered the chairs with a collage of scraps from faded curtains and an old faux-fur halloween costume.  Several days later, with no $$$ spent, look at what Hoiyin has created.
Definitely cool and blog worthy… you can read all about her upholstery adventure here: Her photos are much much better than mine…  After all, she IS a professional photograper.
What have you remade, recycled, redone or reupholstered lately?
Related posts: