We've been searching for that perfect sofa for weeks and weeks, my client and I.  "Perfect" in this case would be big, very soft and super comfy, but not too too large where you get that Alice in Wonderland feel.  More like The 3 Bears, where the sofa is juuuust right. This has been a tough assignment.  We've decided that the majority of sofas within a certain price range ALL seem to look alike:  neutral, plain and with very few distinguishing features other than a few studs here, piping, tufting or pleats there, or perhaps a different turn of the arm.  Of course, I've assured her that a neutral sofa will look wonderful once we add accessories like pillows, throws, rugs, art, books and plants.  Something like this:
What a HUGE difference!  These beige sofas go from blah to FAB with just a few colorful additions. (www.housebeautiful.com)
Of course, if money were no object, and we wanted to be wildly daring and fun, we could go with a real statement piece.  YES, yes… I know these are not for the faint of heart, and probably not perfect for many family rooms where "sprawling" is what needs to be done.  But, OH…  imagine one, just one, of these beauties in your living room, or foyer, or master bedroom or, or, or.  These sofas make me happy!
 Custom Made (www.custommade.com)
 Houzz ( www.houzz.com)
Ginny Avison (www.ginnyavison.co.uk)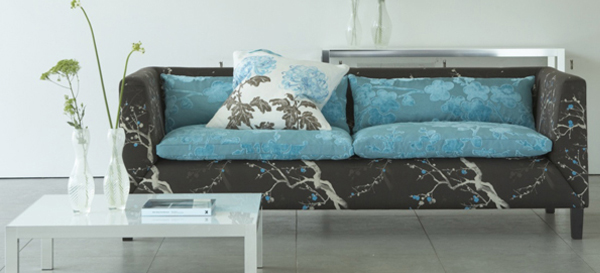 The Designers Guild (www.designersguild.com)
 Roche Bobois ( www.roche-bobois.com)
 The Glam Lamb (www.theglamlamb.com)
                                              In "Stitched," a store in the Cosmopolitan, Las Vegas.
Last, but not least, Anthropologie does different very well.
                                                                               Anthropologie (www.anthropologie.com)
Do YOU dare?  Would one of these sofas make you feel HAPPY when you walk in the door at the end of the day?
Related posts: